Hi everyone, it's my first post in here but I'm a fan for some time now as I've became addicted to knowing more and more about stuff that i want to do. On daily basis im a JS dev, but the world that we (you) are dwelving into here is so much deeper and complex that there's no comparison
Ok, lets cut it to the chase. I'm trying to get some basic data from game called Path of Exile, and while It's easy to find the values and pointers to those values in CE, the problem is that the pointers are also dynamically allocated. They are different every time the game starts. After headbanging to a wall for some time with that, I've started to do this (sorry for links instead of pictures, somehow the website kept telling me the file is invalid, both jpg and png):
1. At this point I've got the HP value for currently opened game together with the pointer to it.

2. I'm checking what's writing to this address through the pointer, which gives me a mov assembly method with mov [edi+000008DC], ecx

What I assumed from this is that edi might be the base address of player object, and edi + 8DC should be the pointer to the character hit points. ECX is the value of the HP after changes (I equiped/removed a ring with +hp to toggle the change).
3. I've made a C++ script that put a hardware breakpoint at 013BB169, read the EDI base address, then removed the hardware breakpoint and moved to regular ReadMemory loop of EDI + 8DC offset to check for current HP. And even thou it turned out its harder, I was so happy at this point :-D
Problem occured when I've changed the characters, and actualy went out on the map to play. It turned out that the same instruction (from point 2) is being used to transfer the value of Energy shield (in this game its like additional HP, on top of regular hp you have shield) and mana. So my assumption at this point was, that it's some kind of middle-man function that accepts an argument with the value and type of value, like changeStats(hp, 123). What it thought at this point was that I need to go up in the function to find a place where I can check for this arguments and based on them, act:
1. Ive made CE select the function that involves my instruction: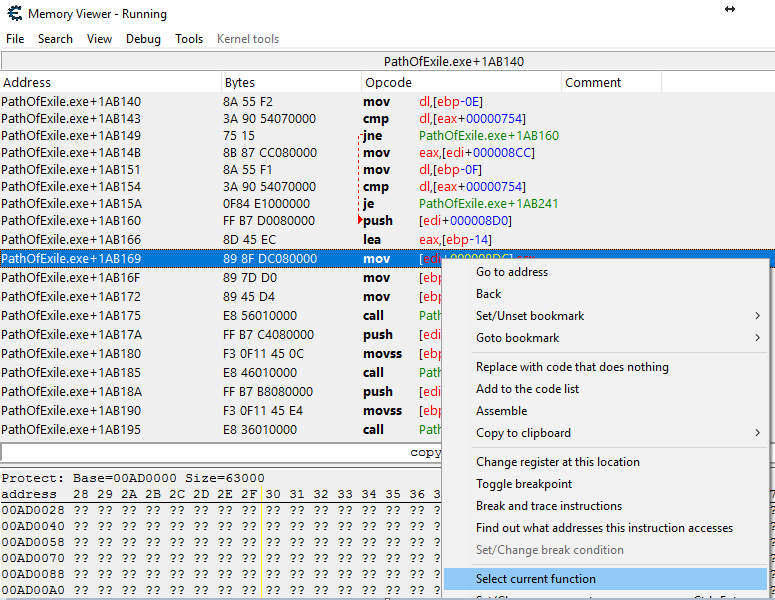 2. CE then points to this location in memory: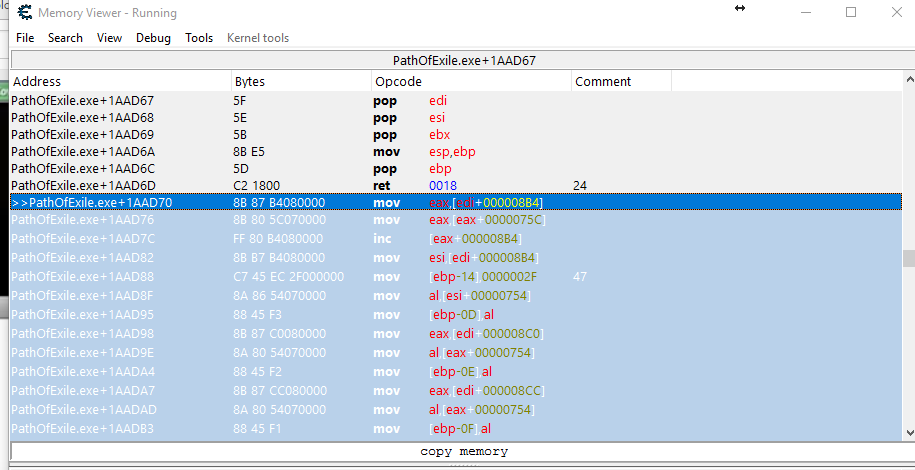 The location its pointing to is pathofexile.exe + 1AAd70, which is 013BAD70 (checked in CE).
Following the IDA tutorials from GH I've loaded the game into IDA and used jump -> jump to address to find that function and decompile it. The problem is that this address is not being found by IDA, unless I attach the currently running game to the program. I feel like my brain is missing some crucial knowledge about why its not being found, because it feels like im missing something simple. Is it because thats a dynamically allocated function only after the game starts?
Anyway, i keep going! So, after decompiling the function, im here: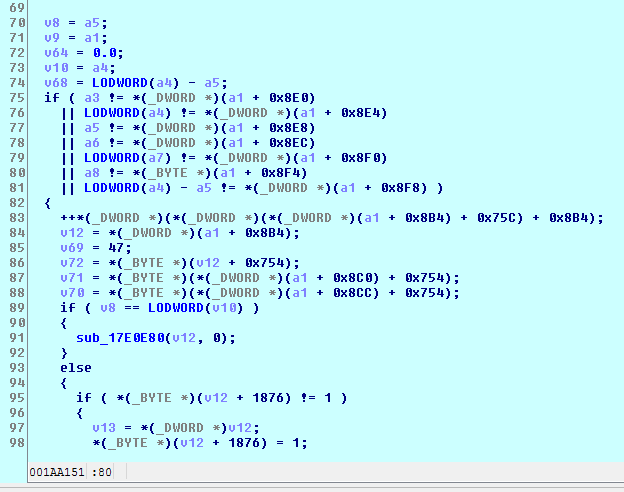 And, I guess at this point, my question is, Am I doing stuff right, and now it's only about spending tons of hours in that decompiled code to actually name some variables till the 'oh ive got it!' moment comes, or there's something utterly wrong in my process and I'll waste my time going that direction?
Thanks in advance for all the help guys!