Hey again GH, found another function that I found useful and I figured I could share. Looked around on the forums and didn't see any thread mention this in the first few pages at least so I hope this might help someone out!
At 0x4607C0 we have a function that takes no parameters and returns the pointer of the player you're currently aiming at.
Hex-rays decomp, not a lot of renaming this time though.
Won't post implementation since it's more or less identical to the last function I posted which can be found here.
https://guidedhacking.com/showthread.php?8016-GetPlayer-function
Here's a small snippet on how to make a really basic triggerbot though.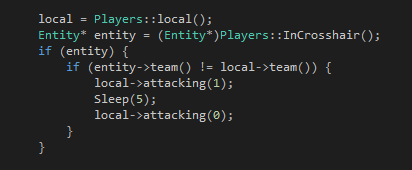 Have fun, suggestions for a better name for the function is welcome! ^-^